All franchising opportunities are not created equal. If you want the potential for financial success combined with a fun and adventurous lifestyle, then mobile entertainment is where you want to be. And within that space, Pedal Pub is miles ahead of the party bike copycats.
SEND ME FREE INFO
Pedal Pub is a franchise that offers a unique way for community members and tourists alike to socialize with friends, tour through neighborhoods and cities, and partake in a light workout with the use of their party bikes. These party bikes are essentially "rolling pubs" that allow riders to enjoy drinks while cruising through the city. With their high-quality bikes and proven business model, Pedal Pub continues to remain at the top of the industry for over 10+ years.
Pedal Pub
The Customer Experience and Franchising Opportunity of a Lifetime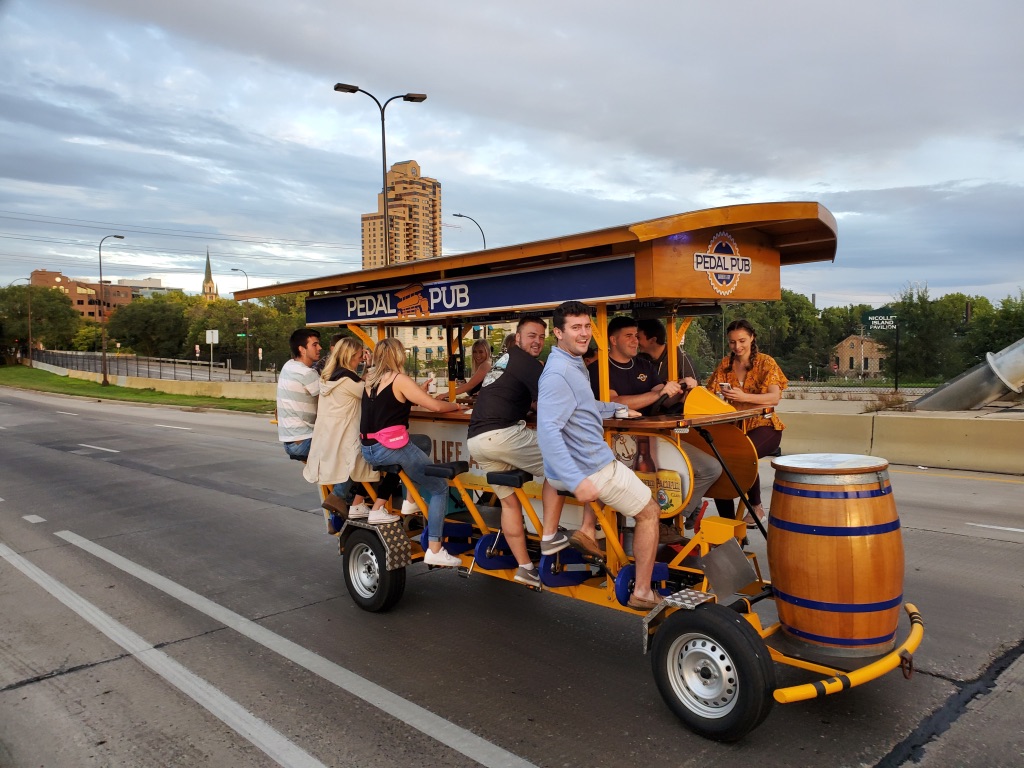 About Us
Pedal Pub offers community members and tourists alike a chance to socialize with friends, partake in a light workout, and tour neighborhoods and cities in an exciting, unique way through our party bikes. We have partnered with the world-renowned bike manufacturer, Fietscafe®, the original party bike, to ensure every bike is of the highest quality and meets our exceptional safety standards for the benefit of all our riders. Our founders brought the first party bike from Amsterdam to the U.S. in 2007 and not only did they start a novel idea for city tours— they invented an industry. Fast forward a decade later and we're operating in more than 50 cities, creating a fun, safe, and eco-friendly experience for millions of guests annually.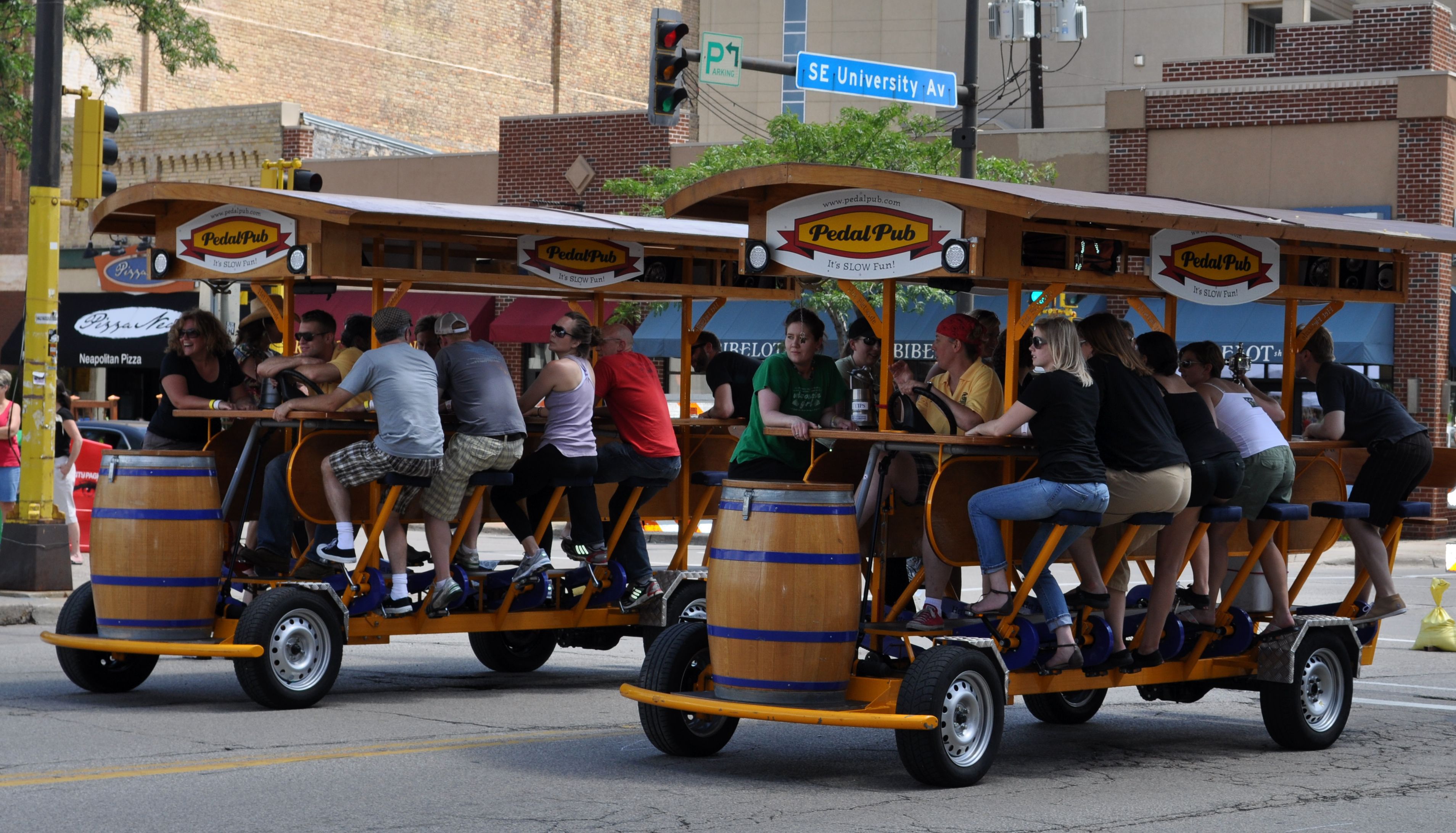 Why Pedal Pub?
All franchising opportunities are not created equal. If you want the potential for financial success combined with a fun and adventurous lifestyle, then mobile entertainment is where you want to be. And within that space, Pedal Pub is miles ahead of the party bike copycats.
A Fun & Rewarding Experience: Our franchisees love what they do and can't wait to get out of bed in the morning. Pedal Pub is an experiential company, and owning a Pedal Pub franchise delivers a far more unique experience than owning a brick-and-mortar business.
The "Kleenex" of the Industry: In a world of imitators, Pedal Pub is the original U.S. party bike. We set the standard, and we continue to raise the bar.
Experience & Quality: We've logged millions of tour hours, so we can help you navigate all the ins and outs of the business. As the people who brought the original Fietscafe® party bike to the U.S., we only put only the highest-quality and longest-lasting vehicles on the road. And with our Pilot Certification Program, no one puts better-trained pilots on their bikes.
A Sky-High Ceiling: The party bike industry is booming. With 50 locations and growing, Pedal Pub invented the space and leaves its competitors in the dust. As more cities realize the economic benefits of mobile entertainment, we'll continue to lower the barriers to success.
Corporate Account Sales Program: We've created a system to book corporate team-building and other tours across the country, delivering more business to your front door.
Unmatched Buying Power: From insurance and booking software to signage and merchandise, we've got the negotiating leverage. We get the discounts. We lower your cost of doing business. We constantly work to improve your profitability.
A Beter Bottom Line: Backed by investors who believe in the party bike space, Pedal Pub offers you a great franchising opportunity. And it starts now.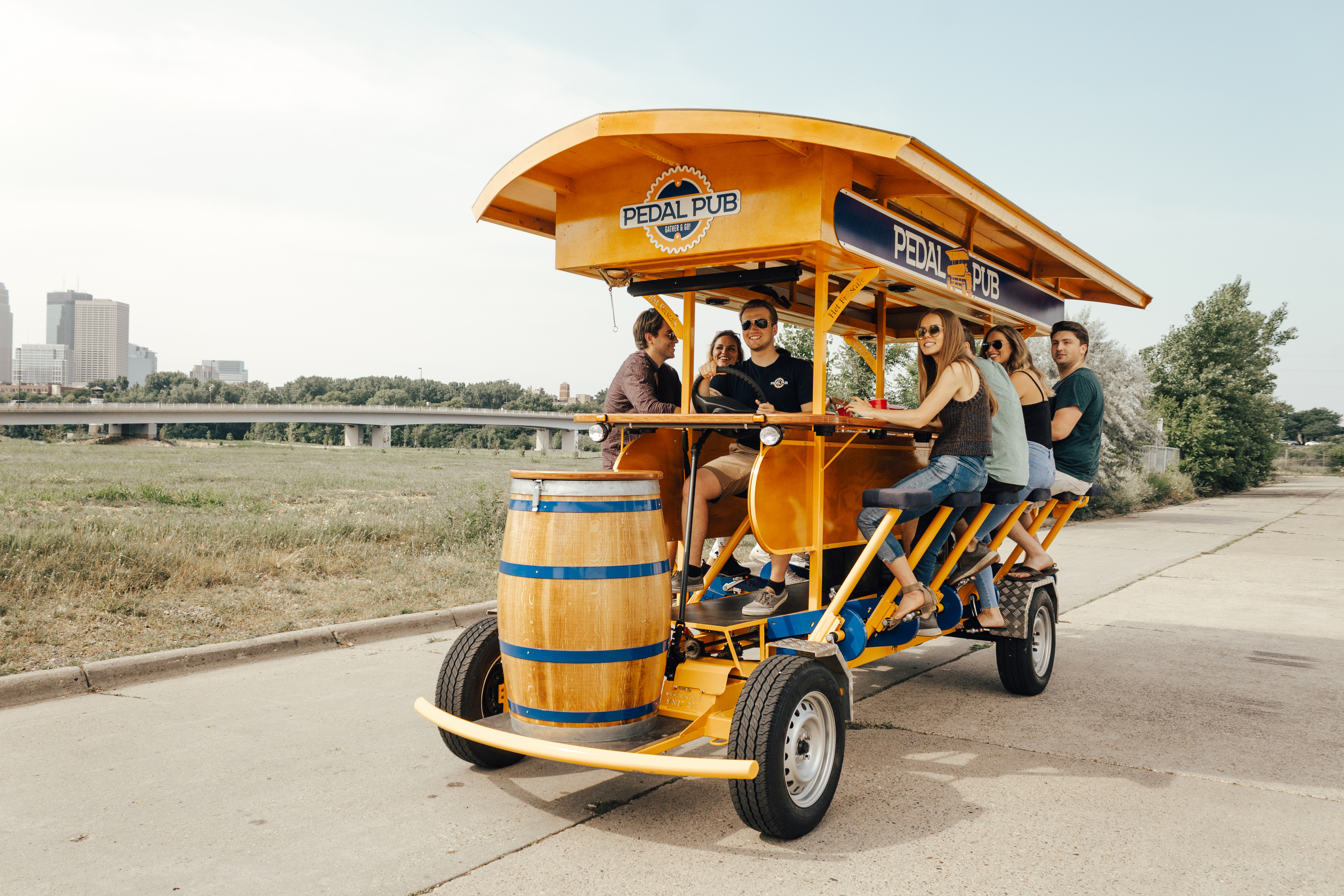 Dominating the Market
No one can match the unique Pedal Pub experience. That's why we plan on continued growth in the coming years, and that's why we present such a great opportunity for entrepreneurs like you.
We and our affiliates currently own 50% of the party bikes on the road
Our nearest competitor has only 12%
We expect to reach 100 locations by 2023
In addition, we're taking several steps to further build brand engagement. We're working to increase location revenue and decrease costs. We've engaged with experts in digital marketing. And we're partnering with companies throughout the U.S. to exponentially grow our customer base.
The Strongest Franchise Training and Support
Today's party bike industry is cluttered with weak, independent operators who can't match Pedal Pub's experience, quality, systems, and scale. The truth is, we're the best national franchise system in the bike pub industry. For you, that means exclusive access to:
An Elite Peer Network: You can tap the expertise of dozens of top-quality operators who've been in business for more than a decade.
Regulatory Expertise: We've established win-win relationships with city officials throughout the country, and we have deep experience in regulatory and safety issues. We've proven our ability to attract tourists, drive traffic to small businesses, provide high-wage jobs, and earn valuable media coverage.
Comprehensive Training: Whether you work with our team of industry partners, you always know that everyone around you is there to make you better and help you succeed.
Group Negotiation: Our depth and breadth translate into local and national marketing resources to help build buzz, spur sales and drive profits for your business.
Marketing: We have the buying power to negotiate exclusive deals with major industry vendors— including booking software, merchandise suppliers, and more.
Mechanical Service: As a Pedal Pub franchisee, you can get bike parts and other mechanical resources from Excel Cycle Systems, a company exclusively dedicated to servicing Pedal Pub bikes.
As Seen On...