Our philosophy is simple. We care about pets. The entire Zoomin Groomin franchise system is designed with man's best friend in mind to make it easy for every pet owner to know that their pet is receiving the best and safest grooming services available
SEND ME FREE INFO
Are you driven, focused, ambitious and sales-oriented with an operational aptitude? Are you seeking a quick ROI, strong cash flow and long-term capital appreciation? By becoming a Top Dog Master/Regional Franchise Partner, you are barking up the right tree.
If you're tired of the volatility of the market, been downsized one too many times or have always wanted to be your own Top Dog instead of fetching sticks for someone else, Zoomin Groomin® enables you to build a high-volume, niche-dominant, multi-million dollar business.
Our Top Dog Master/Regional Franchisee Partners invest from $175k to $300k in a hyper-growth business that provides multiple revenue streams, drawn from 120 to 300 franchised territories in a region. Zoomin Groomin® is your ticket to financial success and your chance to be "Best in Show."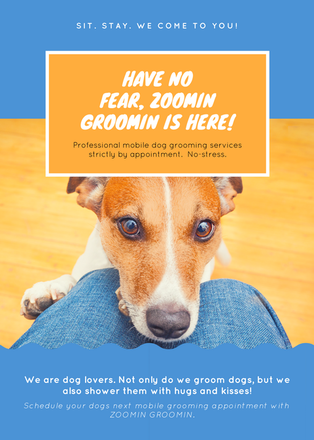 Our Philosophy
Our philosophy is simple. We care about pets. The entire Zoomin Groomin franchise system is designed with man's best friend in mind to make it easy for every pet owner to know that their pet is receiving the best and safest grooming services available – bar none.
Join a High-Demand Pet Industry
Americans spend nearly $107 billion a year on their pets. The demand for our grooming services is at its highest level ever (even in recessionary economic times), thanks in part to television reality programs featuring people and their pets as well as the demographics of our country's aging population. According to the American Pet Products Manufacturers Association (APPMA) National Pet Owners Survey:
There are over 68 million dogs in the United States.
Four in ten (or 40 million) U.S. households own at least one dog.
A pet owner has at least one dog (63%) and one-third (37%) have more than one dog.
There are over 77 million baby boomers reaching their golden years in the near future and a vast majority of these individual with large amounts of discretionary income have pet and are a part of our target market.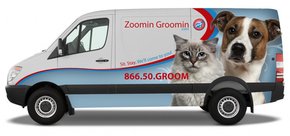 Why Zoomin Groomin
At Zoomin Groomin we help you every step of the way. We work with you to make growing your business easier, your customers happier and your potential profits higher. Our proprietary marketing and operating systems include:
State of the Art Advertising & Marketing Programs
Award Winning Training Programs
World Class Franchise Support
Third Party Financing
Product purchasing discounts
Multiple revenue sources
Private Label Product Line
Public Relations Support
Community Service Programs
Centralized appointment, call center and financial accounting services
Growing Brand Recognition
Plus much more
What Can You Expect As a Zoomin Groomin Franchise Partner?
A Proven Business Model.
During the past five years we have built our business model to ensure that our Franchise Partners have access to world-class business resources to be successful in growing and managing their business.
Dynamic Marketing Strategy.
As a Franchise Partner you take advantage of decades of experience.
Building the Brand.
The core to our brand strategy is the extraordinary customer service culture we have built. You will be able to capitalize on this name recognition and benefit from the system we have developed.
Education and Training.
Our training and post opening support programs are among the best! You will learn about dog behavior, nutrition, grooming and related topics. You will also attend our classroom and hands-on training program and participate in our ongoing webinar series to learn about the nuts and bolts of the pet industry.
Operational Support.
Our turn-key management system does not end when you open your doors for business. When you become a Zoomin Groomin Franchise Partner you become our most important asset! We are committed in providing you with the marketing, training, operations and systems support to make your dreams of financial freedom into a business reality.
Dedication to Quality of Service.
At Zoomin Groomin customer service is Job #1. Our entire business is structured to achieve this mission. Our most fundamental principles and procedures are based upon the highest levels of dog safety and customer service.
Leveraged Buying Power.
One of the most benefits of becoming a Zoomin Groomin Strategic partner is the impact to your bottom line. Because we owe of the largest and most successful pet grooming services in the country, we leverage our knowledge and buying power to provide significant discounts on everything from vehicle purchases, equipment and various add on products and services.