Our system allows franchise owners to quickly capture a premium position as the most professional and qualified handyman, construction, and remodeling firm in their community
SEND ME FREE INFO
HOME SERVICES FRANCHISE OPPORTUNITY
The Honey Do Service, Inc is a fully licensed handyman/remodeler formula focused on residential and light commercial services. We offer services from basic handyman items all the way up to full additions and kitchen/bath/basement remodeling. Our system allows franchise owners to quickly capture a premium position as the most professional and qualified handyman in their community.

A leader in the much needed home improvement / repair niche
The Honey Do Service, Inc. performs high-volume home improvement and light commercial services. Each Honey Do Service location is individually owned and supported by our dedicated team ofspecialized business, technical, and marketing coaches. Our services are always in need, and deemed critical in the eyes of our customers.
How are we unique?
The Honey Do Service, Inc fills a much needed gap in the Home Services industry. Unlike our competitors, we don't seek out the "low hanging fruit" that most single man service companies go after. We also don't try to compete with full home builders. We fill the gap between the two, offering fixed price project completions such as simple plumbing, electrical, and renovation, all the way up to complete room additions, and kitchen / bath remodeling.
What's In it For You?
The top 50% of our locations average annual sales of $650,679
Highest gross margins - 64.6%
Highest per ticket average - $1,837
Startup assistance and grand opening support
General Contractor's License Acquisition Program
EPA Lead Paint Renovation Certification
Website for local visibility & leads, designed and optimized by our in-House Google Certified Professional team
Custom marketing materials with ongoing advertising support and management from our own in-house marketing team
Enhanced benefits package, payroll processing, & HR department for you and your employee team
Software system and complete library of forms & manuals supplied to you
Proprietary Job Estimation software and bookkeeping support
Tools for staff screening & hiring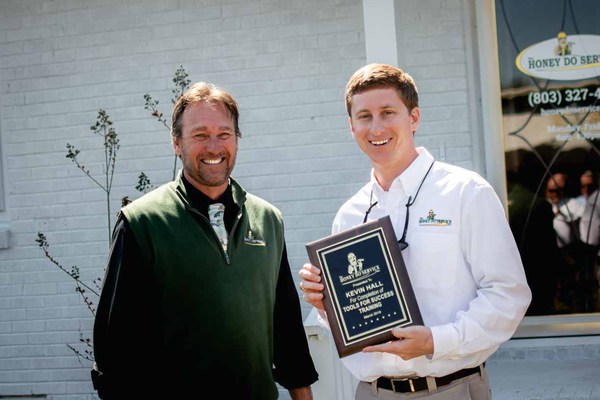 HIT THE GROUND RUNNING 3 YEARS AHEAD
The franchise industry has a higher success rate than going at it alone, because franchising means minimizing the risk that comes with being an "independent owner" and it gives you the ability to become part of a team that is committed to building a quality brand and dominating the market. Additionally, it means group buying power to cut your operating expenses and provide predictable results thanks to our tried-and-true systems.

THE HONEY DO SERVICE, INC. IS RECESSION-RESISTANT
HOME REPAIR IS ALWAYS IN DEMAND
During the housing market crash of 2008, The Honey Do Service, Inc. excelled due to homeowners deciding to fix and remodel their current homes, instead of purchasing or building new homes. While many contractors were out of jobs, The Honey Do Service, Inc. could barely keep up. Additionally, according to a recent Houzz, Inc. report, 51% of Homeowners planed to begin or continue renovations during 2018 with a median spend of $10,000 per remodel. While homeowners who have lived in their current homes for six or more years drive the majority of renovations.
We are deemed an essential business
During the housing market crash of 2008, as well as the Covid-19 pandemic, The Honey Do Service, Inc. excelled due to homeowners making the choice to fix or upgrade their properties instead of simply selling and moving up. During good times, or challenging times, our customers deem our services essential to their lifestyle. Additionally, according to a recent study, The RRI (Residential Remodeling Index) is expected to average YOY increases of 2.0% in 2020, and 2.4% in 2021.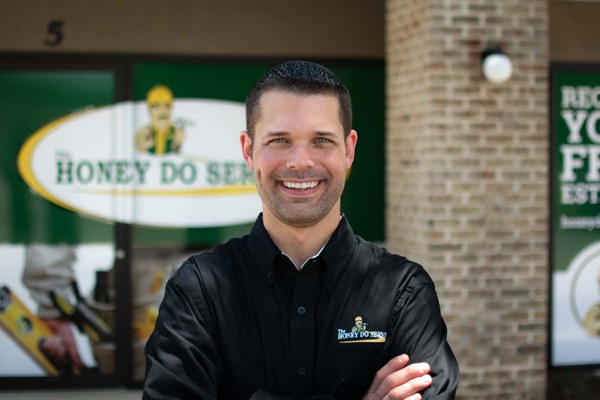 WHAT MAKES A GOOD OWNER?
Our ideal candidate is someone that has some good business knowledge and experience, a passion for community service, ties to their community, pride in their workmanship, good leadership skills, and a sense of being a perfectionist.
We favor those with construction experience, whether formal or home DIY'er. Some states may have stringent contractor licensing requirements that will limit a candidate's ability to perform all services typically offered by a Honey Do Service office. This does not mean that candidate will be rejected, or will fail. It merely changes the processes, technical skills trained, and marketing requirements for that candidate.
Our owners do not perform the home improvement themselves; they lead and support their craftsmen to do so. The franchise system is designed for the person looking to own and operate a low-cost business where the owner is not the principal worker.
VETERAN AND CONTRACTOR DISCOUNTS
We value all our veterans. We know we owe the freedom to own and build our brand due to the sacrifices of our military men and women. All veterans will receive $5000 off of the franchise fees. We also know it takes a special person to get their general contractor's license on their own, and we respect the hard work that went into securing it.
Come to us with an existing general contractor's license, and we'll reduce your franchise fee by $2000.