We are today's fastest growing developer of independent Mail Box Stores in North America! Veterans get 5% off the store package price which can mean $1000s in savings!
SEND ME FREE INFO
To quote Business Opportunity Magazine
"…the Packaging & Shipping Store Business has a LOW risk factor in a good growth industry. Millions of consumers are avoiding mile-long lines at the post office by turning to packaging and shipping services. These one-stop shops package just about anything and ship it almost anywhere via national carriers."
The Total Package
We've thought of everything: We offer a total comprehensive package, which covers every pertinent aspect of opening and successfully running a retail Mailbox store long term. You are able to offer more than 40 profitable and in-demand personal and business services to your customers. We are the only mail and parcel developer that includes a color copier with black & white copying features, state of the art POS and interactive customer touch screens in your business package. We assist in finding your new location, help negotiate the lease, perform the store design and layout, do the physical build out, help you to secure financing as well as provide ongoing support. We supply all the Mailbox store merchandise, fixtures, equipment and supplies, along with the work crew to open the store and we do it quickly and professionally.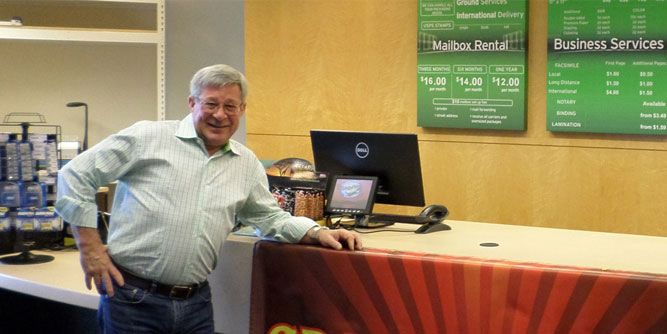 Training & Support
Training is designed to ensure that each new owner is familiar with the many aspects of managing their store. This experience begins before and continues well after the store's opening. Your trainer will be in contact with you both before and after the store has opened. This training will include a full review of a comprehensive operations manual and related materials designed to aid you in operating your store on a day-to-day basis. Both classroom and onsite training are available, and encouraged, prior to the opening of the store.
This is NOT a Franchise
You are the owner of the store and have 100% control of your business. Since we are NOT a franchise, there are no ongoing royalties or fees, but you DO receive long-term support and access to industry networks. From the beginning you have total control over all decisions regarding YOUR store, including site location, store layout, timing of opening and merchandise.
Company History
The Mail Box Stores is affiliated with one of the largest retail business opportunity developers in the country. In a little over 12 years they have assisted in opening over 2,500 successful retail outlets in the U.S. helping independent storeowners achieve their dreams of business ownership and financial independence.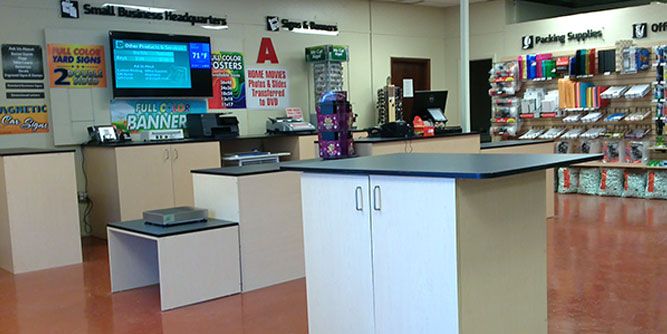 Your Turnkey Package Includes:
Point of Sale Shipping System (including credit card verification)
Commercial High Speed Color - B/W Copier
Color Printer
Commercial Fax Machine
Safe W/ Depository Drop for Cash Control
Personal Mail Box Units
Rolling Work Station
Customer Convenience Counter
Work Station Counters
Copier Work Counter
Rental Computer & Workstation
Backroom Shelving
Business Cards for the Owner
Custom Business Cards Program
Letterhead With Your Business Address
Mail Box Rental Agreements
Illuminated Window Signs
Preprinted Envelopes With Your Business Address
Paper Inventory
Legal Forms
Shredding Program
Membership Privileges to Our Network
Custom Rubber Stamp Program
Uniforms
Custom Printing
Shipping Discounts With Carriers
Start-Up Supplies
Retail Office Supplies Inventory
Comprehensive Manual
Long Term Support
Build-Out Staff
Slat-Wall On Interior Walls
Main Service Counter
Custom Fixture Package
Passport & ID Photo Camera
Key Cutting Machine & Accessories
Laminating Equipment W/Supplies
Pre-Opening Training on Site and/or At Corporate Headquarters
Paper Cutter
Binding Equipment
Exterior Sign Allowance
Interior Signs
"Menu of Services" & Product Signs
Custom Interior Services Lettering
Site Location Assistance
Lease Negotiations Assistance
Freight for Initial Retail Inventory
Freight for Fixtures & Equipment
Affiliation W/ Western Union Program
Greeting Cards Program(s)
Promotional Items
Software included
Windows 7; Microsoft Office; QuickBooks Link (in POS system); Inventory Management System; Mailbox Management System……..and much more.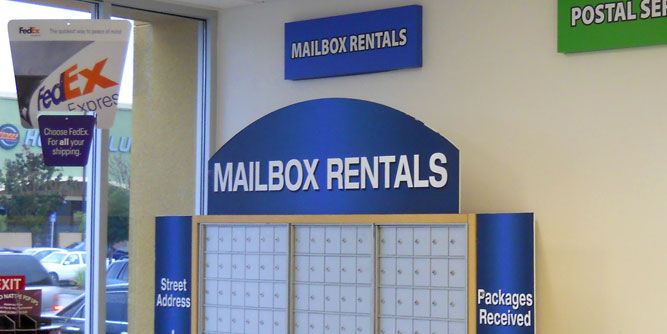 You Have The Freedom To Be Your Own Boss And Be A Successful Mailbox Storeowner!
Big Discounts available to all Veterans!