WaterStation Technology™ stands on the forefront of water purification and filtration. Ours is a truly watershed technology that is not only potentially more lucrative than the bottled water industry, but also much more ecologically responsible and sound.
SEND ME FREE INFO
Requires no money down but a minimum credit score of 700

A Passion for Water!
Based in the Greater Seattle area, WaterStation Technology ™ stands on the forefront of water purification and filtration.  Ours is a truly watershed technology that is not only potentially more lucrative than the bottled water industry, but also much more ecologically responsible and sound.
We're privileged to be on the vanguard of a movement to purify the world's drinking water, which itself is the essence of life.  We offer investor and business opportunities to those who wish to partner in our cause.
What We Stand For
Our mission is to provide mankind with a healthier, less expensive and more responsible water purification and water filtration system that doesn't damage the environment.
We have achieved this with groundbreaking discoveries and the development of water purification equipment. Our primary objective is to implement our systems far and wide for the benefit of individuals, towns, cities and whole nations – we currently have in excess of 500 water stations throughout the United States.
The Business
We manufacture a number of "water station" models, vending machine like units that dispense water from local water supplies, that is filtrated and purified through our patented process.  Tapping into a local water supply eliminates the need to restock inventory, typically in the form of bottled water, and eliminating the waste problem that bottles create.  Yes, ours is a bottless water supply business.  The water is dispensed in containers provided by the consumer or location owner in small or large (5 gallons) quantities.
We package 10 or more water stations for qualified individuals to create a Water Station business and identify the locations at which the water stations will be located.  The owner of the location (a gas station, big box store, etc.) will share in the portion of the revenue in exchange for providing the location.
The owner/operator of a water station business will be able to monitor the revenue and activity of the units by way of a mobile phone or tablet and rarely have to visit each unit with the exception of changing a filter on the machine from time-to-time – even then the owner will be notified on his or her mobile phone when a filter needs to be changed.  Thus, a water station business will provide a passive income stream in exchange for a few hours of work a week.
The cost to the consumer is competitive with bottled water so each water station can be expected to generate consistently good revenue to the owner/operator.  Another source of revenue is digital advertising directly on the unit.
From an Environmental Standpoint
Americans purchased more than fifty billion plastic water bottles last year and only recycled twenty-three percent of them. With more WaterStation™ single-serve units available, this number will begin to decrease.  More than thirty-eight billion plastic bottles per year are going to landfills throughout the United States alone. Reducing bottled water sales by 5% would result in 190 million less plastic bottles being deposited into US landfills each year!
Why Us?
5 Reasons To Own A Water Station Business:

1.  BUSINESS, NOT A FRANCHISE.
Save royalties and convert costs to bottom line profits...plus no territory restrictions.
2.  SEMI-ABSENTEE/PASSIVE
Keep a job and/or open multiple locations; manage with a part-time handyman.
3.  AN ECO-FRIENDLY GREEN BUSINESS
Eliminates plastic bottle pollution, recycling costs and health hazards from the plastic bottles.
4.  INVENTORY FREE
No need for overhead costs of full-time personnel, brick & mortar, vehicles or recycling costs resulting in operational cost savings of tens of thousands of dollars annually.
5.  THERE ARE ABSOLUTELY NO OTHER COMPETITIVE OFFERINGS
This unique BOTTLE-LESS water purification system that will convert water into Alkaline water in a standalone WaterStation®  – more than any other water vending machine provider worldwide.
Premier training and support
At our Seattle based headquarters we'll provide training and hands-on experience during a 2-day training seminar following purchase of your Water Station business. We have experts in each aspect of the business available to you: technical support, hardware support, business services and coaching, and sales and product support.
Access to our staff of professionals with decades of combined experience setting up, operating and supporting Water Station businesses.
An overview of the industry and your role in it. We provide everything you need to realize your potential in the industry.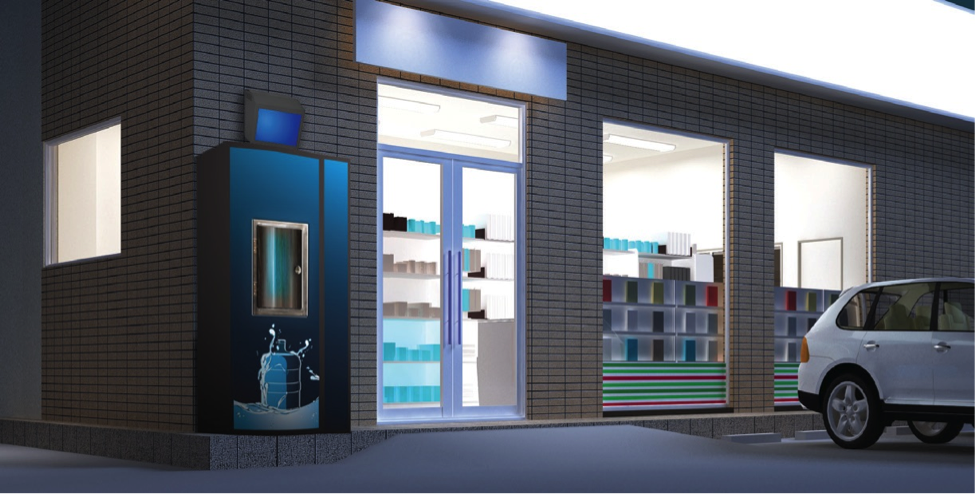 The Rollout
WaterStation Technology™, is currently in negotiations with over 20 regional/national retailers with a combined total of over 3,800 locations that require machines. The retailers are agreeable to concentrated areas and rollout plans in phases.
WaterStations™ are deployed in the following types of locations:
Health/Organic Grocery Stores
Convenience Stores
Universities & Community Colleges
Highrise residential complexes
Cross Fit & Yoga Centers
Tennis/Fitness Clubs
Strip Malls
Public Beaches
Public Parks
Government Facilities
Military Installations